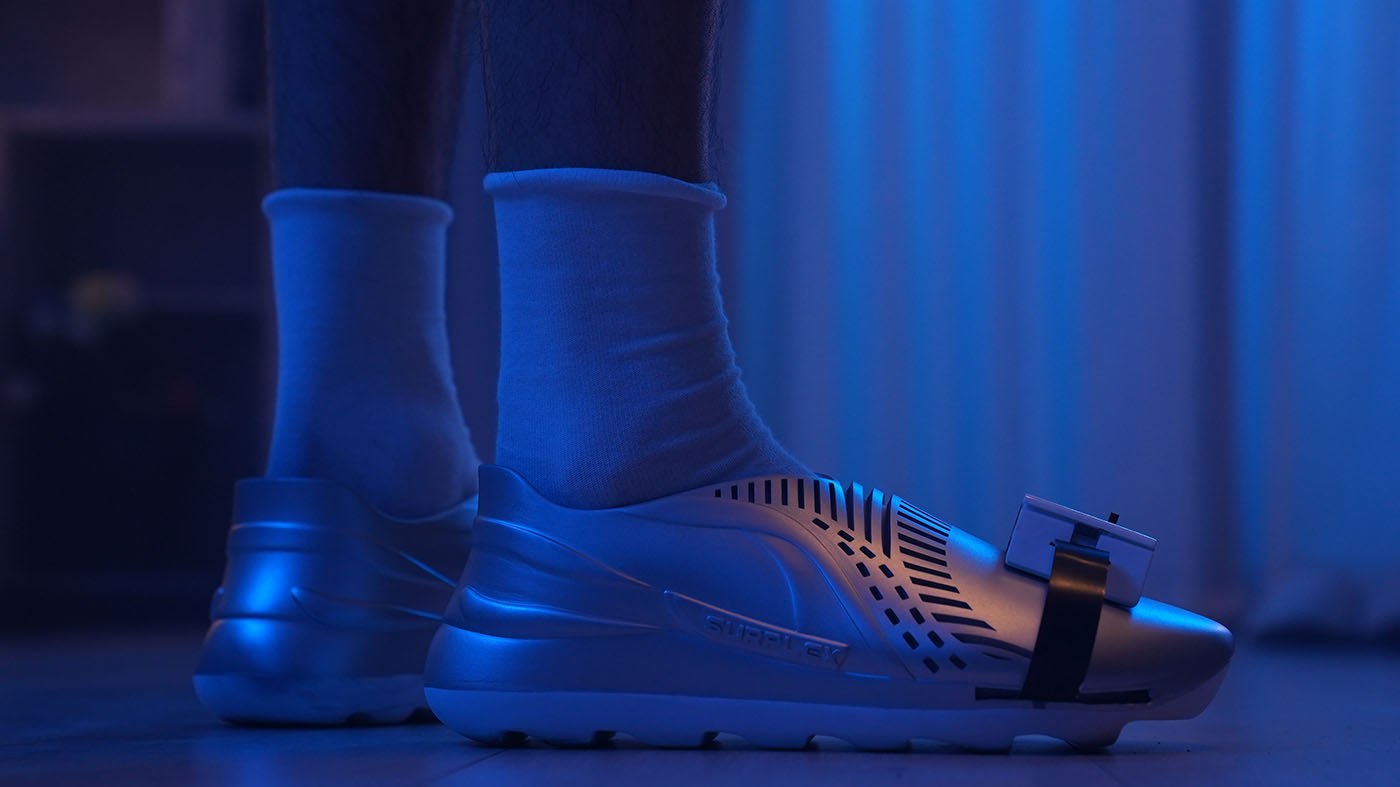 Axl Chen, Parsons Design and Technology '23, creates Surface, VR tracking shoe that captures full-body motion
When you study in Parsons' Design and Technology courses, the inspiration for your next project can come from anything, and you usually have the opportunity and resources to bring it to life.
For Axl Chen, Design and Technology '23, the idea for his new VR startup, Surplex, started with a major studio course while he was studying an exchange program at Tsinghua University through the Parsons Global Offsite Program. As a member of the Tsinghua ski team, Chen used wearable technology to fine-tune his performance, but the sensors on his body were too bulky, so he researched and created a full-body tracking system that is elegantly embedded in a shoe.
As the founder and CEO of Surplex, Chen is responsible for various engineering tasks such as the day-to-day management of the team, textile pressure sensor development, PCB schematic design and manufacturing. His team includes BFA Fashion Design '21 Zhang Yuedi, who helped design the shoes, as well as researchers, engineers, technical consultants, and more.
"Everything is going well, and at the same time, getting a lot of attention from supporters, media and industry partners is a challenge," shared Chen. "I am very excited, but also very humble. I will do my best to deliver the best product form to users!"
Surplex is currently on Kickstarter with a goal of $10,000 for the project, but has since raised over $60,000, with the fundraiser a week away. The product Chen and his team plan to launch has 480 pressure sensors and two IMUs embedded, allowing users to move in a full range of motion without worrying about getting tangled in wires and wires, and connect to a variety of VR headsets.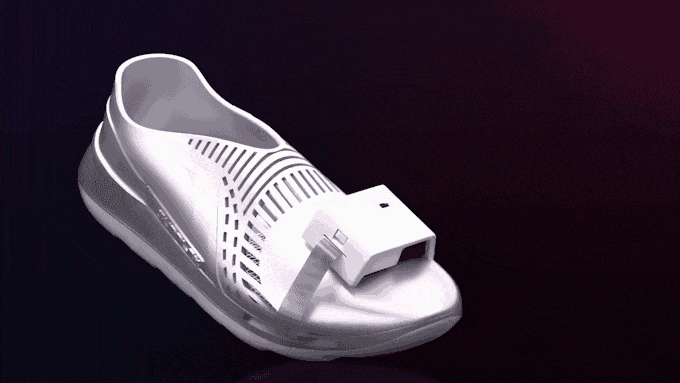 "We actually started with the idea of ​​scalable pressure-sensitive tiles that could be assembled together as a smart floor for full body tracking, but that didn't work because we found it difficult to capture the user's leg movements if the user lifted Get your legs up, and you're going to do that," Chen explained. "We looked at various sensors to bridge the gap and found that IMU was the most feasible for our use case, with more affordable cost and stable performance. Later, we started collecting large amounts of human kinematics data and training our neural network. We About 500k frames were collected to achieve the performance of the algorithm."
Aside from the lack of wires and wires, Chen and his team also ensured that the Surplex would be compatible with all major FBT VR games, including VRChat, Blade and Sorcery, Beat Saber, and Neos VR. They're also in talks with game studios to release "full body tracking" versions of various fan-favorite games, including VRWorkout, Planet Theta, and Tennis Esports.
"The methods previously available to customers were either expensive and required tedious setup such as base stations, or frequent calibration due to drift," Chen said. "Our product is the first shoe with full body tracking. Not only are Surplex shoes less prone to drift, they are also more affordable for VR users."
Chen's time at Parsons has allowed him to build a community with bright, ambitious designers and generous support from professors and staff.
"Specifically, the DT project has a very open environment where everyone has the opportunity to explore what they like. This supported me in starting this project."
Like Chen, many Parsons students and alumni pursue unique and innovative programs that reflect the University's mission and vision. Recent graduates of the MFA Textiles and MFA Fashion Design and Society programs showcased their collections during New York Fashion Week, exploring gender and the body, creative giants and sustainability, and speculative futures and world-shaping. Sofia von Hauske Valtierra, Product Design '17, Design and Technology '19, helps create immersive experiences for children through design, while MFA Photography graduates are highlighting complex topics through their essay collections, which recently On display at Karen Gallery.
As Chen and his team continue to work on Surface and move forward with a consumer-facing release, they're thinking about how to use the product differently. They have received inquiries to work with medical and wellness companies as VR technology can be used for applications such as medical analysis of foot pressure.
"Overall, we see great potential in this product and we will continue to explore it," Chen said. "In addition to this product, we also strive to bring a more immersive experience to XR users in the future, so we are also working on a wristband that can capture the user's hand movements to help users control the XR interface more efficiently, easily."