Veronica Martin interviews Mario M. Veljovic, General Manager of VAD Technologies, to discuss GITEX 2022 and the company's plans for the region.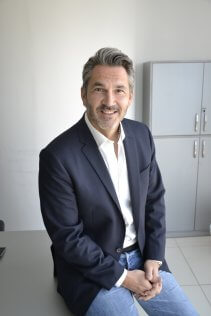 Can you tell our readers something Solutions and partnerships during this year's GITEX?
The focus of GITEX is to meet our partner ecosystem. We wanted to create these 1,300 sq. ft. sanctuaries on GITEX to meet, reconnect and network with our channel partners, technology vendors and friends. We're not really showing any of our solutions. That's why we've moved out all the products and made sure we have enough space for meetings. We are promoting more about infrastructure as a service, augmented or mixed reality, and software as a service.
When we talk about bringing disruptive technology to market, in many ways the real technology is not the disruptor, a lot of times it is going to market. For example, today we sell storage, CCTV and basically everything as a service, which is a major disruptor for many players. As a group, we have huge revenue in hardware, software, distribution, but we want to be ready for the future.
This shows how much we have become a service, which is what we really want to do. We want to use GITEX to make sure our partners from abroad come to see us so we can show them our true strengths, scale and introduce them to the wider team in the organization.
How has your company performed in the MENA market over the past 12 months? Has your company entered any new markets/countries?
We've been focusing on disruptive and innovative technologies that take a long time to really develop, so we've traditionally called them emerging technologies, emerging vendors. But we are now seeing that the hard work of the past 7-8 years has paid off as these suppliers are moving from emerging to high growth. Cloud computing, artificial intelligence, machine learning were just buzzwords a few years ago, but now it's really happening and people are looking for them, so we can now benefit from all these hard investments.
The business has been very strong for us, especially this year and in 2021, we opened our own legal entity in Saudi Arabia to expand our local presence, and the same goes for Qatar.
We will further expand our legal entity in the region as we want to be closer to our partners, our partners' business and support them in doing that business. On the other hand, tax regulations in the region have become very complex, so in order to remain effective and cost-effective, we need to work more closely to avoid being taxed unnecessarily. This necessitates a presence in every country in the Gulf and beyond because our focus is always on the Gulf countries. In addition, we see good opportunities in Iraq, the Levant and Africa.
Which technology and IT trends are at the forefront of driving enterprise innovation?
The key business we are looking for is high performance data center solutions. It's physical security, but goes beyond cameras and into computer vision. On top of everything augmented reality, which I call cloudification, is in every pillar. Artificial intelligence is embedded into the solutions to ensure that all solutions we provide are efficient. The key trend is to simplify all of these technologies from a consumer perspective.
Today, customers want to manage all their solutions on the fly from their mobile phones. AI is helping us come up with preventive measures to address different situations, so this is also a key trend. If our lives become more complex, we need to simplify. There was a time when you wanted as much information as possible. Today you just want to have relevant information because there is so much information. People need to become more open to using AI because it is a tool to help us, not something that threatens humanity.
Can you tell our readers and what differentiates your company from your competitors in the market?
We have a very detailed plan for each supplier we join. We put a lot of effort into analyzing what we actually bring to market to make sure it fits the overall concept. I'll give you an analogy. Imagine that I am a golfer. I actually do exactly the same thing as Tiger Woods in my golf swing, but he's just Tiger Woods, so what's the difference? I have a backswing, a club, a ball, the right form, so what makes him so good and I'm not as good as me? It's all about rhythm and the right sequence. What we do is the same as what other distributors do, but our difference is that we have the right sequence and rhythm, which means we have the right stamina to know when and what we need to invest in. We've been investing in some of our suppliers for the past five years and we're only now seeing returns.
I think that's what makes us different. All of my teams have been with me almost from the beginning and all the suppliers have been with us since. We haven't seen suppliers go. At times we may have seen the relationship as a dry dock, but eventually, because of time and rhythm, we found our way. We are passionate about what we are doing and everyone can see that. The growth we're going through is exciting and people are even more supportive of us reaching the next level.