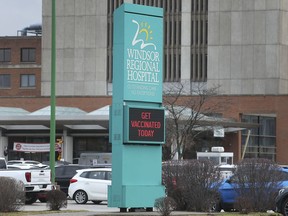 Article content
Windsor Regional Hospital has entered into a long-term, 15-year deal with a leading healthcare technology company that it hopes will result in improved staff efficiency, improved patient services and the specific ability to quickly replace outdated technology over the next few years.
Article content
The exact value of the agreement with GE HealthCare (GEHC) was not disclosed Monday, but local hospitals say it is worth tens of millions of dollars over its lifetime. The deal follows a two-year RFP process.
Article content
For context, the average local hospital replaces or purchases approximately $200 million in medical equipment over a 15-year period.
Malissa Gauthier, the hospital's chief financial officer and corporate vice president, said: "This agreement allows Windsor Regional Hospital to provide the residents of Windsor-Essex and all those we serve with healthcare services powered by leading medical equipment and technology."
"We are excited to partner with GE HealthCare to provide our patients with excellent care in an economically sustainable manner – both now and as we plan for the new hospital."
Article content
Under the agreement, GE HealthCare will be solely responsible for the procurement, installation, maintenance and staff training of most of the medical technology used in the hospital, including diagnostic imaging, surgical, cardiology and emergency department equipment.
The adoption of the service in the Windsor region builds on GE HealthCare's successful partnership with Toronto's Humber River Hospital, now in its eighth year.
It is expected to save Windsor Hospital millions of dollars annually. Humber River reports that the deal ended up saving them $80 million so far.
The agreement will continue as Windsor Regional Hospital transfers technology and services to the new Windsor-Essex acute care hospital.
Article content
In addition to new diagnostic equipment — which is replaced as technology evolves — patients and staff will see improvements in the accuracy and speed of diagnostic imaging and improved diagnoses.
Expect less equipment downtime and fewer program cancellations. Staff will also be provided with specialized training to keep them abreast as technology evolves and new equipment is introduced.
GE HealthCare will provide on-site service support to reduce downtime through faster equipment repair or replacement. The on-site program has four GE HealthCare employees.
The agreement also provides predictable hospital budget costs for technology and equipment services.
"GE HealthCare is here to serve the Windsor area community, predictably delivering new and innovative technologies to support their healthcare teams over the long term," said Mike Hamilton, CEO of GE HealthCare Canada.
"As healthcare continues to evolve, our collaboration will help support clinicians and staff in delivering precision healthcare by improving workflow and reducing stress, allowing them to spend more time with patients."
dbattagello@postmedia.com