CNN
—

Nearly three weeks after a traffic stop in Memphis resulted in the violent arrest and subsequent death of a driver, police are expected to release video of the incident recorded by police body cameras to the public.
Tire Nichols, a 29-year-old black man, was arrested on Jan. 7 and was hospitalized and died of his injuries three days later, according to police. Five Memphis Police Department officers, also black, were fired following an internal investigation and faced potential criminal charges.
Nichols' family and attorney met with police and city officials to review traffic stop footage of what was described as a vicious, prolonged beating that continued for several minutes after police pursued the fleeing Nichols .
Memphis Police Chief Cerelyn "CJ" Davis condemned the officers' actions, adding that other officers continue to be investigated.
"It wasn't just a professional failure," Davis said. "This is a failure of another human being's basic humanity. This incident is heinous, reckless and inhumane. And in the spirit of transparency, you will see this for yourself when the video is released in the coming days."
Here's what we know about the timeline of events, authorities' investigation, and the reaction of Nichols' family:
According to a statement from Memphis police, officers stopped a vehicle on suspicion of reckless driving at around 8:30 p.m. on Jan. 7.
According to Memphis police, "a confrontation occurred" between officers and the driver of the vehicle, later identified as Nichols, who fled on foot. Officers arrested him and "another confrontation ensued," leading to Nichols' arrest, police said.
An ambulance was called to the scene of the arrest after Nichols complained of shortness of breath and he was taken to a nearby hospital in critical condition, police said.
On Jan. 10, three days after the stop, the Tennessee Bureau of Investigation announced that Nichols had died from injuries sustained during an "armed incident with officers," according to a statement.
Memphis police said the officers involved were relieved after traffic was stopped — a standard department procedure — while an investigation into their use of force began. TBI and the Shelby County District Attorney's Office were also invited to investigate.
Preliminary findings indicate that the conduct of officers during the stop was serious, police said.
"After reviewing various sources of information concerning this incident, I have determined that immediate and appropriate action is warranted," Commissioner Davis said in a statement released Jan. 15. Today, the department is issuing a statement to concerned officials. Notification of pending administrative action. "
The statement added that the department needs to follow the necessary procedures before disciplinary action or dismissal of government civil servants.
In the days following Nichols' death, the family's attorney, Ben Crump, repeatedly expressed their desire to release body camera and traffic stop surveillance footage.
"Deaths like this in custody undermine community trust if institutions are not transparent about it quickly," Crump said in a statement.
On Jan. 18, the Justice Department said it had opened a civil rights investigation into Nichols' death.
"The tragic death of Tire Nichols last week came days after he was involved in the use of force by officers of the Memphis Police Department during his arrest," Kevin G. Ritz, U.S. Attorney for the Western District of Tennessee, said in a statement. said in a statement.
Acknowledging the Tennessee Bureau of Investigation's ongoing efforts, the U.S. Attorney's Office "has begun a civil rights investigation, in coordination with the FBI's Memphis Field Office and the Justice Department's Civil Rights Division," Ritz said, but declined to provide further details.
Following an internal investigation, Memphis Police identified and fired five officers involved in a traffic stop for violating multiple department policies.
Officers Tadarrius Bean, Demetrius Haley, Emmitt Martin III, Desmond Mills, Jr. and Justin Smith were fired for failing to "excessive force, duty to intervene and duty to render assistance," the department said in a statement.
"The egregious nature of this incident is not a reflection of the great integrity our officers perform every day," Davis said.
The Memphis Police Association, the union representing the police, issued a statement refusing to comment on the firing, saying only that the city of Memphis and Nichols' family "should be aware of the full record of events leading up to his death and what may have occurred" contributed. "
Nichols' family attorneys, Crump and Antonio Romanucci, called the firing of the five officers "a first step toward justice for Thiel and his family."
Two Memphis Fire Department employees who were part of Nichols' "initial patient care" were also fired, Memphis Fire Department public information officer Qwanesha Ward told CNN's Nadia Romero.
After meeting with officials and viewing unreleased police video of the arrest, the Nichols family and their attorney described their horror at what they saw.
"He was defenseless the whole time. To those cops, he was a human piñata. There was three minutes of undisguised, undisguised, non-stop beatings on this little boy. That's what we said in the video. See," Romanucci said. "Not only violent, but brutal."
"What I saw on video today was horrific," Nichols' stepfather Rodney Wells said Monday. "No, Daddy, what I saw today must have been seen by my mother."
Crump called the video "shocking," "regrettable" and "outrageous." Nichols' mother, Ravaughn Wells, was unable to watch the first minute of the video after hearing Nichols ask, "What did I do?" he said. At the end of the video, Nichols can be heard calling for his mother three times, the lawyer said.
Nichols was "bleeding profusely from severe beatings," according to preliminary results of an autopsy commissioned by lawyers for his family. CNN requested a copy of the autopsy, which Crump said will be provided when the full report is ready.
The Shelby County District Attorney's Office has not announced whether anyone will be charged in the case. District Attorney Steve Mulroy told CNN on Tuesday that his office is making sure that all necessary interviews are conducted with those involved before the video is released.
"Of course, a lot of people's questions about what exactly happened will be answered once people see the video," said Mulroy, noting that he believes the city will release enough footage to "show the whole thing from the beginning." to the end. "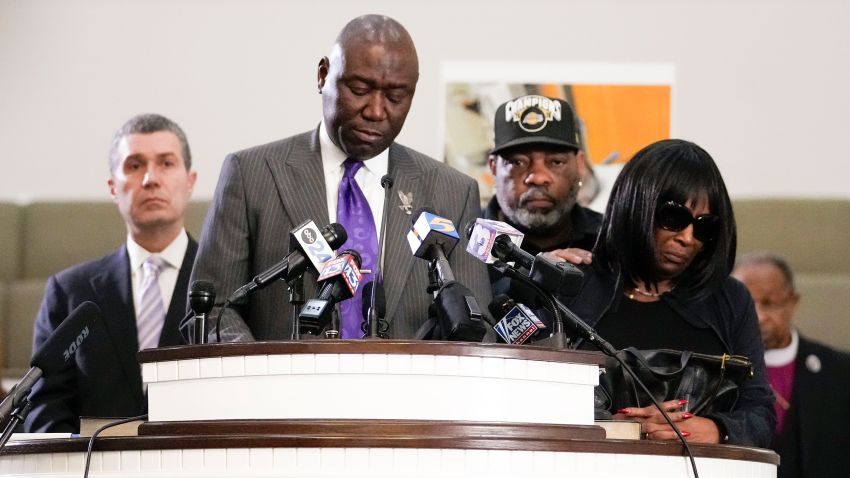 Tire Nichols' family speaks out after seeing video of police beating cops